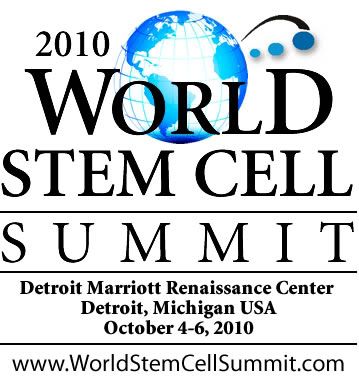 The World Stem Cell Summit is the flagship international event uniting the stem cell community by bringing together scientists, patients, advocates, business people, investors, educators, ethicists, policy makers, government representatives, and others to network and learn from each other.
In 2010, the Summit will attract more than 1,200 attendees from 30 nations, 60 exhibitors and more than 200 endorsing organizations and media partners from around the world.
Marriot Renaissance Center
Detroit, Michigan USA
www.worldstemcellsummit.com
Poster abstract submission deadlines July 30th 2010.
The 2010 World Stem Cell Summit is the largest and most comprehensive multi-track stem cell conference, featuring more than 150 international speakers and 50 hours of in-depth science, business and society presentations. No other stem cell conference offers the breadth of content and global perspective. The agenda works to unite, educate, and harmonize the global stem cell community.
This year's diverse three-day program will include an array of opportunities to engage and educate attendees. Highlights include morning keynotes and plenary discussions, round table lunch conversations with experts, concurrent science, industry and society tracks, as well as intimate focus sessions designed to meet the needs of all World Stem Cell Summit attendees.